Activar Windows 7  con Windows 7 Loader creado por Daz, esta basado en el activador de Orbit30 y Hazar la diferencia principal esta en la optimización en el código de programación.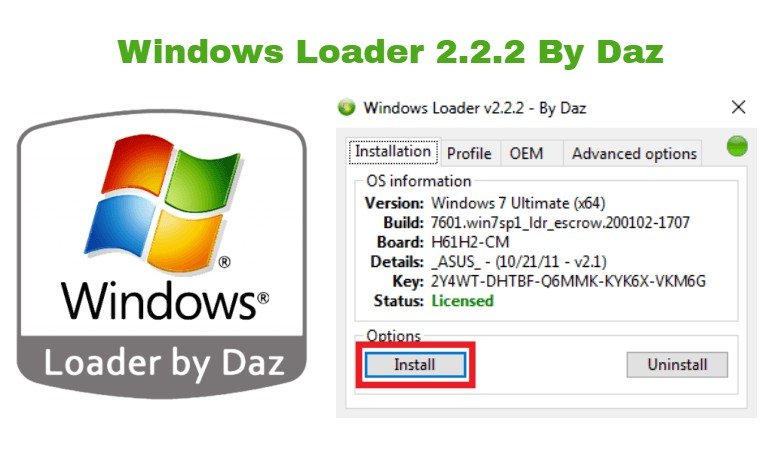 Su función es la de activar windows 7 y obtener un sistema operativo original tanto de un sistema 32Bits como de 64Bits.
Para su correcto uso se recomienda aplicar en un sistema operativo limpio (es decir no actualizaciones), no requiere una KEY, el programa nos proporciona uno (omitir el paso de introducir KEY de 25 dígitos al instalar windows).
Activar Windows 7 con Loader by Daz. Versiones Compatibles
Windows 7 Ultimate
Windows 7 Ultimate E
Windows 7 Professional E
Windows 7 Home Premium E
Windows 7 Home Basic
Windows 7 Starter
Windows 7 Starter E
Windows Vista Ultimate
Windows Vista Business
Windows Vista Business N
Windows Vista Home Premium
Windows Vista Home Basic
Windows Vista Home Basic N
Windows Vista Starter
Windows Server 2008 Enterprise
Windows Server 2008 Enterprise (Without Hyper-V)
Windows Server 2008 Foundation
Windows Server 2008 Standard
Windows Small Business Server 2008
Windows Storage Server 2008 Standard
Windows Storage Server 2008 R2 Essentials
Windows Server 2008 R2 Enterprise
Windows Server 2008 R2 Foundation
Windows Server 2008 R2 Standard
Windows Server 2008 R2 Datacenter
Windows Small Business Server 2011 Standard
Windows Small Business Server 2011 Essentials
Windows Home Server 2011
Windows Server 2012 Standard
Windows Server 2012 Essentials
Windows Server 2012 Foundation
Windows Server 2012 Datacenter
Windows Storage Server 2012 Standard
Windows Storage Server 2012 Workgroup
Windows MultiPoint Server 2012 Standard
Windows MultiPoint Server 2012 Premium
Windows Server 2012 R2 Standard (Nuevo!)
Note: You must be running build 7600greater for Windows 7Windows Server 2008 R2.
Windows 7 NE editions will only be supported when OEM SLP serials leak for them editions.
Información Técnica
English | Free | 32Bits & 64 Bits | 1.35 MB
Enlaces de Descarga

WEB DEL AUTOR