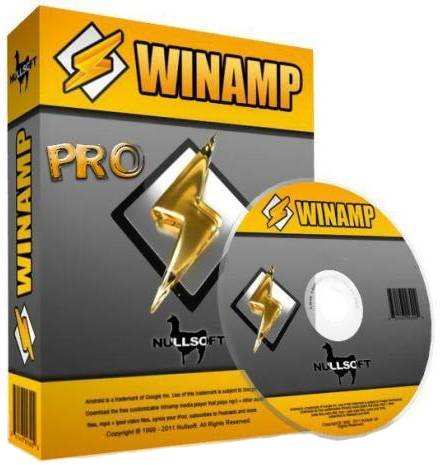 Winamp Pro
, el reproductor musical de Nullsoft destaca por poseer una interfaz muy sencilla, un bajo consumo de recursos y ser uno de los pioneros en disponer de múltiples skins gratuitos para personalizar su aspecto y cambiarlo completamente de manera casi instantáneamente, destacando además por su alta calidad de reproducción y la gran variedad de formatos soportados.
Winamp reaparece con dos nuevas funciones: la compañía Nullsoft incluye en la aplicación el códec FLAC, y un sistema para poder leer los datos contenidos en un CD..
NOVEDADES EN WINNAMP 5.64 PRO
Sincronización inalámbrica del escritorio con Winamp para AndroidTM
Importación de biblioteca desde iTunes
Completa renovación de las funciones de podcast; entre otras, inclusión de un nuevo directorio con la tecnología de Mediafly
Mayor compatibilidad con Windows 7, se incluyen controles del reproductor en la barra de tareas
Disponibilidad en 16 idiomas además de inglés y español, se incluyen el turco, rumano y portugués (Brasil)
El Generador de listas de reproducción se ha mejorado
Posibilidad para agregar la barra de herramientas de Winamp y control de la reproducción desde el explorador (opcional)
Compatibilidad nativa de vídeo, incluidos los formatos de archivo más populares para vídeo H.264 codificado
Grabación de CD de audio sin restricciones y copia de hasta 48x
Codificación MP3: formato líder del sector
Contribución a la recaudación de fondos para continuar con la innovación y el desarrollo del producto
FORMATOS SOPORTADOS
NSV, stz, AIFF, KAR, AAC, MPEG, MPG, s3m, pls, WMA, AVI, MID, WMV, MP3, okt, VLB, WAV, AU, mdz, VOC, ASF, M4A, MP4, ptm, it, mod, RMI, nst, stm, AIF, amf, m3u, CDA, MIDI, mtm, s3z, xm, far, MIZ, NSA, SND, xmz, 669, mp3, M2V, APL, itz, MP1, MP2, OGG
CAPTURAS DE PANTALLA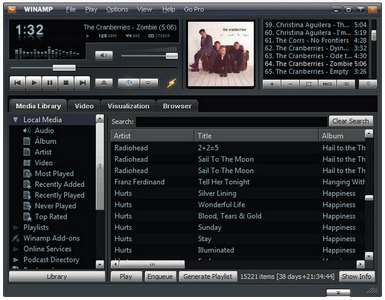 CAMBIOS EN ESTA VERSIÓN
Winamp 5.64
New: Option to run Winamp in Safe Mode (also via /SAFE=1 commandline switch)
New: XSPF playlist support (read only support, write support to follow)
Improved: Added tooltips for truncated text in Media Library listviews
Improved: Added 'Explore item folder' to context menu in playlists
Improved: Bookmark menu handling now follows Winamp's Play/Enqueue setting
Improved: D3D vsync mode (should fix reported video tearing issues)
Improved: Display album art source info in Artwork tab of File Info dialog
Improved: Remember last position of dialogs
Improved: Show rating from tags if file is not in Local Media Library
Improved: Use new style dialog for folder browser
Improved: Windows 8 filetype association compatibility
Improved: [gen_ff] Multi-monitor support for Bento/Modern skin notifier
Improved: [gen_ff] Windows 8 multi-monitor/taskbar mode compatibility
Improved: [in_flac] FLAC streaming support
Improved: [in_mp3] Shoutcast v2 in-stream artwork support (and other misc fixes)
Improved: [in_mp3] Use MIME to determine decoder before assuming ext. is correct
Improved: [in_mp4] Native ALAC playback support
Improved: [in_mp4] Optimize MP4 Raw Reader by using chunks instead of samples
Improved: [in_mp4] Write ratings to tags (using the «rate» atom)
Improved: [ml_local/history] Friendlier error message if nde/database fails to load
Improved: [ml_local] New 'Date Added' column (smart views adjusted accordingly)
Improved: [ml_playlists] Now with Generate HTML Playlist support
Improved: [ml_playlists] Save playlists to custom m3udir, if specified in paths.ini
Improved: [ml_wire] Save (and backup) database files on updates instead of on exit
Improved: [pmp_ipod] Added BPM, TotalTracks, Disc# & TotalDiscs metadata support
Improved: [pmp_wifi] SSDP support and other optimizations
Fixed: Failing to load on some Windows 8 (and earlier) installs (thanks Nanner)
Fixed: Not playing the first song next when clearing then adding items to playlist
Fixed: Bento/Modern skin notifier sometimes no longer appearing (thanks pjn123)
Fixed: Deletion of 0-byte wdl*.tmp & wht*.tmp files
Fixed: Issues with re-embedding of vis plug-ins in Bento skin when exiting fullscreen
Fixed: Issues with some Icecast servers providing invalid stream links (v2.x bug!)
Fixed: Potential crashes when rapidly switching between DSP plug-ins
Fixed: [Bento Browser] Potential security vulnerabilities (thanks Julien Ahrens, inshell.net)
Fixed: [gen_jumpex] Potential security vulnerabilities (thanks Julien Ahrens, inshell.net)
Fixed: [in_mp3] Mapping of POPM ratings scale
Fixed: [in_mp4] Bug where too-small passed-in buffer size resulted in loss of data
Fixed: [in_mp4] Seeking files/podcasts which use a single video frame as artwork
Fixed: [in_vorbis] Not reading Disc# (plus other general Vorbis Comments fixes)
Fixed: [in_wave] mldb info for .wav files being wiped after viewing Alt+3 dialog
Fixed: [ml_disc] Blocking of context menu items in ml tree for History & Bookmarks
Fixed: [ml_disc] Creation of 0-byte trk*.tmp files & associated crash on some systems
Fixed: [ml_impex] UI lockups on import/export of large databases
Fixed: [ml_wire] Subscriptions to podcast channels with the same name
Fixed: [ombrowser] Alt Gr keys broken in Online Services text input fields
Fixed: [pmp_android] Albumart-related crash when transferring ogg files
Fixed: [pmp_android/usb] Transfers fail if <Albumartist> contains illegal characters
Fixed: [pmp_p4s] Crash/hang on exit after transferring files to MTP/P4S devices
Misc: All default plug-ins now include file description & version info properties
Misc: More general tweaks, improvements, fixes and optimizations
Removed: [gen_orgler] The end of Winamp Charts & Music Usage Database
Updated: [libFLAC] FLAC 1.3.0
Updated: [png] libpng v1.5.16
Updated: [gen_jumpex] JTFE v1.2.6
Updated: [zlib.dll] zlib 1.2.8


.
INFORMACION TECNICA
Multilenguaje | Español | 17 MB | All Windows/ Mac/ Linux | x86-bits y x64-bits | Act. 23-11-2013
ENLACES DE DESCARGA
WEB DEL AUTOR
http://www.winamp.com/media-player/es